Shamley Green Woodland Burial
Oakfield Wood, Shamley Green, Surrey
Oakfield Wood is designated exclusively as a green woodland burial site for natural burial. It was inaugurated in 2001 by Councillor Goodridge, the mayor of Waverley Borough in Surrey.
Natural woodland burials are a relatively recent phenomenon in the UK having their beginnings with Carlisle Town Council in 1993 while trying to come up with a satisfactory cost-effective alternative to the traditional bury.
Green Woodland Burial Services Limited is the company that owns this Oakfield Wood site which previously was part of general farm acreage. The company has an arrangement with Surrey Wildlife Trust who will take over the long-term management of the woodland when internments at the location are completed. The company has three other sites in different UK locations and their details are accessible on the internet at Woodland Burials.
The burial site is to be found equidistant between the village of Shamley Green and Cranleigh in the county of Surrey with the nearest major population centre being that of Guildford.
In keeping with the concept of naturalness it has a very unsupposing entrance which opens immediately on to the site adjacent to the B2128 on the west side just to the north of the junction with the B2127.
Entrance Gate and Way to Oakfield Wood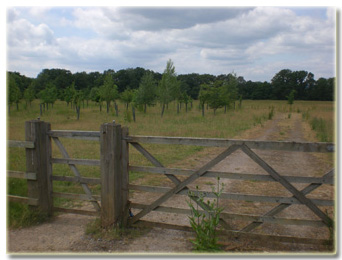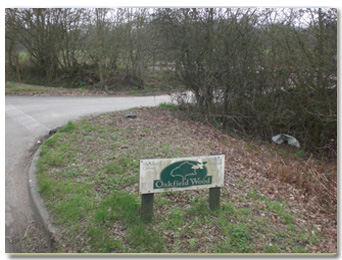 Single and double burial plots can be purchased and there is the choice of ashes or full interment. The land is not subject to any religious overtures and therefore burial services of any type are allowed. The only physical objects permitted to identify a burial plot are a small wooden plaque with the name and span of life of the deceased and, when the season is appropriate, a tree -as far as is possible respecting the choice of the bereaved family- is planted.
As would befit a site endeavouring to emphasize naturalness there are no facilities but for people coming a distance the nearby large village of Cranleigh, (the largest in England and to all intents and purposes a town) offers the full range of facilities you would expect in a small town and the village of Shamley Green to the north has a village store and the Red Lion Inn which offers a very satisfactory lunch time menu.
This web site has no commercial connection with the site owners. It has been produced merely for information purposes by someone from the Hayward / Summers-Smith families who have family members buried at Shamley Green.
Testimony from the most senior member of those families:
"It is perfectly adequate. A very natural site"
For Family Photos: